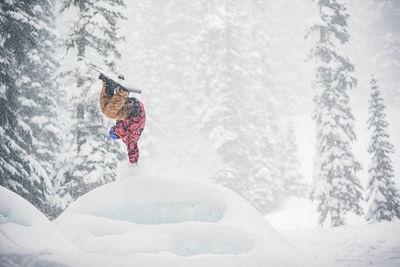 Family Ski Packages in the West
The best value for the whole family is to purchase an Epic Pass or book your vacation directly through your resort of choice. By researching what's available in California and Washington State, you can find the perfect ski and ride vacation for your family.
Booking directly through a West Coast resort website will give you access to discounted rates like cyber sales and mid-season perks. For example, booking at Heavenly more than 30 days before your trip gives you 10% off on all lodging.
Epic pass holders get access to 37 world-class ski resorts, as well as limited access to many more partner resorts. In Lake Tahoe, you can choose between Heavenly, Northstar, and Kirkwood. In Washington State, Stevens Pass has something for the whole family.
Which West Coast Ski Resort is Best for My Family?
From remote mountain lodges to plush slopeside condos, there are accommodations for everyone on a West Coast ski and ride vacation. Whether it be exploring the endless trails of Kirkwood, or shopping at Northstar, your family will not be disappointed on a trip to the West.
Heavenly
Heavenly offers a plethora of family-friendly resort benefits. On the mountain, your family can soak in the jaw-dropping beauty of Lake Tahoe, while pushing the boundaries of what they thought possible on skis and snowboards. If your kids are really looking to progress with skiing and riding, Heavenly offers several junior competitive alpine racing opportunities.
At the resort, your family will thoroughly enjoy the many perks offered by Heavenly. Lakeland Village is an incredible lodging option located directly on the shore of Lake Tahoe. For something more luxurious, you simply cannot beat Zalanta Resort. Finally, Heavenly provides childcare services if parents need some time to explore the slopes on their own.
You will save big by booking your vacation directly through the Heavenly website. For example, staying at Heavenly midweek is more affordable than staying over the weekend.
Northstar
Northstar is the premier family ski resort in California. A trip to North Lake Tahoe and Northstar is a great escape from the city for quality time with the family. There's something for everyone at Northstar. Not only is there an extensive variety of trails for skiers and riders of all levels to explore, guests will also enjoy a magical mountain village with dining, shopping, and entertainment.
By signing up for Northstar's Platinum Club, you get exclusive access to ski lockers, tuning services, ski valets, complimentary beverages, and priority lift access. At the Constellation Residences, guests enjoy ultra-luxury accommodations provided by The Ritz-Carlton.
To get the best value on your ski and ride vacation to the West, book your vacation directly through the Northstar website. Keep an eye out for special offers like cyber sales and deals for booking early.
Kirkwood
Kirkwood is the perfect balance between challenging terrain and comfort. Therefore, Kirkwood is the perfect choice for families who prioritize skiing and riding, while also enjoying the perks of a family-friendly California resort.
Kirkwood is an inclusive ski town that is off-the-beaten-path in South Lake Tahoe. A trip to Kirkwood is a great opportunity to unwind and breathe the fresh mountain air. As such, your family is guaranteed to return home from Kirkwood rested and satisfied.
To maximize your enjoyment of a ski and ride trip to Kirkwood, be sure to book through their website. To illustrate, reserving ski-in ski-out lodging early in the season will secure the best prices of the year at Kirkwood.
Stevens Pass
Stevens Pass is an extremely family-friendly ski area. On the mountain, your family can enjoy some of the deepest powder snow in the world. Even more, at Stevens Pass, you have the added flexibility of skiing at night. This option is especially attractive for families traveling 2-hours from Seattle to ski and ride.
When not skiing and riding, your family will enjoy the tranquil atmosphere at Stevens Pass. Surrounded by the Mt. Baker and Wenatchee national forests, the ski area offers a great place to kick back and soak up the quietude of the mountains.
To get the very best ski and ride conditions at Stevens Pass, please keep an eye on their snow report. You can also enjoy 20% off rentals, food, and more at Stevens Pass with Epic Mountain Rewards.