TOP TEN WAYS TO APRÈS WITH YOUR KIDS
Après takes many forms here at Park City Mountain. There's sledding, zip lining, ice-skating and—wait for it—actually relaxing. With so many options, how do you decide what to do with the kids after you finish the last run of the day?
Park City, Utah
Ever wished you could fly through the air with the greatest of ease?
The Flying Eagle Zip Line carries two people up and back down the mountain for an exhilarating, soaring experience.
Don't zip up your bags to go home before stopping by these zip lines.
Park City, Utah
2. UMBRELLA BAR AT CANYONS VILLAGE
If you've got kids in tow, head on over to the Umbrella Bar at Canyons Village. There's something here for everyone thanks to 360-degree views of the resort—roving jugglers, magicians, and balloon artists.
Be sure to try their signature scone burger or a buffalo hot dog along with a brew. Challenge the kids to a game of foosball or ring toss. And if you're here in the spring, check out the Spring Grüv concert series from the deck.
More EPIC APRÈS
Discover even more après fun in our Colorado, Canada, and California resorts. When skiing and riding beyond Park City, explore family-oriented après-ski activities like snowshoe tours, night skiing (for those who just can't get enough), or even a relaxing night out at the movies.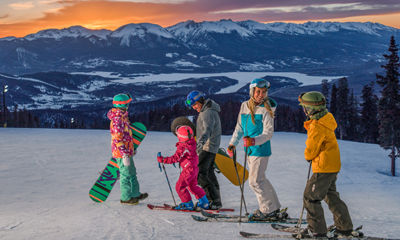 Keystone, Colorado
3. NIGHT SKIING
The on-snow adventure at Keystone doesn't stop when the sun goes down.
Enjoy the longest ski day in Colorado, where you can cruise under the lights on 243 acres of skiable terrain. It's no wonder this resort was voted one of the best family resorts by readers of USA Today.
Vail, Colorado
Ice skating is a favorite pastime for most and a fun experience for the whole family.
Warm up post-skate next to the outdoor fire pits adjacent to the ice rinks.
Breckenridge, Colorado
If your family wants to sled at Breckenridge, Carter Park offers up some great family fun time. Take your sled, mittens, and kids to one of the only sledding hills in town. The peak is located at the south end of High Street.
Kirkwood, California
7. FULL MOON SNOWSHOE TOURS
The best way for adventurous families to experience Kirkwood's unspoiled natural beauty is with a guided snowshoe trek under the light of the full moon.
Kids and parents alike will marvel at the moon's magical effect on the snow-covered horseshoe canyon.
Read More at TAHOEADVENTURECOMPANY.COM

, opens in a new window
Keystone, Colorado
At 9280' Tap House, even your most finicky youngster will find something delicious to nosh on.
Choose the crowd-pleasing pesto sticks (warm pizza dough covered with mozzarella) or your favorite appetizer, sandwich, wrap, salad, or chili.
As the kids munch away, you can take your pick from a sizable beer list that includes a custom 9280 ale—all while enjoying live music from the River Run stage.
Whistler-Blackcomb, Canada
9. PRIVATE SLEIGH RIDES
Relish the frozen majesty of Whistler Blackcomb by night during a private sleigh ride with your family.
Your carriage comes equipped with blankets to keep you cozy and a canopy to keep you dry in the likely event of winter precipitation. Halfway through your snow-laden journey, warm up by a roaring fire with cocoa in hand.
Read More at WHISTLER.COM

, opens in a new window
Vail, Colorado
You don't even have to step off the mountain to visit this mid-Vail haven, where adults can order from a hefty wine list and kids can indulge in mac n' cheese.
Stay warm by the bar-side fireplace with the entire Gore Range spread out in front of you.