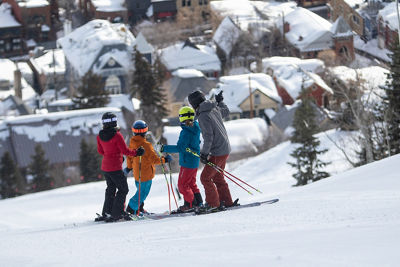 What to Look for in a Rocky Mountain Ski and Ride Vacation Package
While the stunning beauty of the Rockies is appreciated by everyone, not all Rocky Mountain ski and ride packages are created equal. Taking a little time to learn about the perks and benefits of package deals will not only save you money, but will ensure the best possible vacation in Colorado or Utah.
Lift tickets / Season Passes
Lift tickets are always major considerations to make when planning a ski and ride vacation.
Purchasing an Epic Pass ensures the best possible rates on lift tickets for your family. Whether you purchase a season pass or a pass for a few days, getting an Epic Pass early guarantees the best value on lift tickets.
If you're unable to secure an Epic Pass, lift tickets are available for purchase online and on-site at your favorite Rocky Mountain resort.
Equipment Rentals
Even if you own equipment, it's often easier renting gear on-site than traveling to the Rocky Mountains with your skis or snowboard. Our resorts offer the latest ski and ride gear, so you can try all of the latest models - including powder skis and boards. As seen with all Epic Mountain Rewards, Epic pass holders get 20% off rentals in the Rocky Mountains.
Lodging Options
Whether it be a luxurious mountainside chalet at Beaver Creek, or a slope-side condo for the whole family at Keystone, you will find exactly what you need for lodging in the Rocky Mountains.
When planning your ski and ride trip to the Rockies, you will get the best deals possible on lodging by booking directly through the resort. Even better, you can capitalize on specific deals for Vail, Beaver Creek, Breckenridge, Park City, Keystone, and Crested Butte.
As part of the Epic Mountains Rewards package, Epic pass holders get 20% of all lodging in the Rocky Mountains.
Package Deals
Booking a package deal for your Rocky Mountain ski and ride vacation will ensure the best experience for your family. By bundling lodging, lift tickets, and rentals, you will get an incredible value for your trip, while also experiencing the very finest amenities in the Rocky Mountains.
For the Colorado resorts, you can bundle the Epic Mountain Express into your trip. With the convenient shuttle, you will be whisked from Denver International Airport (DIA) to the resort of your choice.
Which Rocky Mountain Ski Resort is Best for Me?
No matter what your skill level, the Rocky Mountains have ample opportunities for all types of skiers and riders.
Difficulty Level
If you are looking to push your limits in the mountains, Crested Butte is your best bet. Not only is Crested Butte known as the "last great ski town," but is also renowned for its steep runs and advanced terrain. In fact, Crested Butte has hosted extreme skiing competitions on multiple occasions.
Intermediate-level skiers and riders will also have an amazing time in the Rocky Mountains. Both Breckenridge and Vail offer endless blue runs. Intermediate skiers and riders will enjoy groomed and off-piste options at these world-famous resorts.
For most parents, there is no better pleasure on vacation than seeing their kids having fun. Luckily, the Rocky Mountain resorts have amazing skiing for young kids and beginners. Keystone has an incredible learning area on top of the mountain, with great ski instructors. Best of all, at Keystone - kids under 12 ski free!
On-Mountain Features
Each of the Rocky Mountain resorts has unique on-mountain features you can't find anywhere else. By exploring these incredible areas, you will experience firsthand what makes the Rocky Mountains some of the best skiing and riding on earth.
Vail is renowned for its legendary back bowls. Skiing and riding the back bowls at Vail is an incredible experience that will overwhelm the senses with expansiveness and beauty. For most people, a powder day in Vail's back bowls is the highlight of their entire ski and ride career.
For those skiers and riders looking for the most terrain possible, Park City simply can't be beaten. As the largest ski area in the United States, Park City features over 7,300 acres of skiable and rideable terrain. Because the mountain has over 330 trails, plus off-piste tree skiing, you will never be bored at Park City.