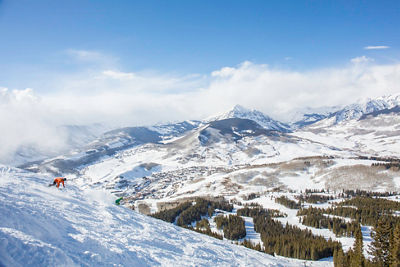 How to Travel: Getting to the Rocky Mountains
Aside from experiencing the breathtaking beauty of the Rockies, one of the best things about a Rocky Mountain ski and ride vacation is the ease of access. With resorts near Salt Lake City, Utah, and Denver, Colorado, it's easy to catch international and direct domestic flights to the resort of your choice.
Colorado's most famous mountain resorts are located within an easy drive from Denver International Airport (DIA). Vail and Beaver Creek are just 2.5 hours from DIA, while Keystone and Breckenridge are only 2 hours. Crested Butte is about a 4-5 hour drive from DIA - the resort can also be accessed via flights directly to Gunnison, CO.
As the largest ski resort in the United States, Park City also has extremely convenient access. Park City is a simple 35-minute drive from the Salt Lake International Airport (SLC). Those guests wanting a quicker arrival can also fly directly into Park City.
Once you arrive in Colorado or Utah, transportation to the resort is simple. For those needing their own vehicle, both DIA and SLC have a variety of rental car options. If flying into DIA, you can also take the Epic Mountain Express directly to your resort. Once you have arrived at your favorite Rocky Mountain resort, you can simply walk to ski lifts, restaurants, shops, and more.
Where to Go: Choose Your Rocky Mountain Ski Resort
One of the best things about a ski and ride trip to the Rockies is visiting picturesque mountain towns. Whether you are interested in a luxurious vacation experience or would like to immerse yourself in quiet mountain life, there are plenty of options to explore in the Rocky Mountain region.
Vail
Vail has 3 amazing base areas to choose from. When you aren't skiing and riding, Vail Villages offer incredible dining and shopping, as well as activities like ice skating. Even better, the whole family will stroll the cobblestone streets of Vail without ever getting in a car.
Beaver Creek
Beaver Creek Village is a literal winter wonderland, complete with boutique shops, gourmet dining, and incredible mountainside chalets. By staying slopeside at Beaver Creek, you will truly relax and trust you are receiving the best service in the Rocky Mountains.
Breckenridge
When not skiing or riding Breckenridge, don't miss the chance to explore the town of Breckenridge, renowned for its historic buildings and mellow vibes. In Breck, you will experience Colorado's mining history, while also shopping for amazing souvenirs at its quaint shops.
Park City
People flock to Park City, Utah for its iconic Main Street. In Park City, you can take your pick of winter celebrations, museum exhibits, art displays, and western shops. No matter what types of food your family likes, they will be thrilled with the restaurant options in Park City.
Keystone
The Keystone base area offers the perfect balance between comfort and affordability. Once in Keystone, your family will enjoy ice skating, spa treatments, bonfines, and even night skiing.
Crested Butte
Nestled deep in the Colorado Rockies, Crested Butte has often been referred to as "America's last great ski town." A visit to Crested Butte is a totally unique experience - you get a real taste of mountain life far from the hustle and bustle of Denver.