SIX BEST FIRES TO GATHER AROUND
If your winter traditions don't include a fire pit, you're missing a quintessential part of the season. Between heated patios, tasty s'mores, amazing views, and even better company, fire pits are at the center of many of the villages. And when it comes Colorado traditions, there's nothing better than a roaring fire pit surrounded by a Rocky Mountain backdrop.
Vail, Colorado
The most meaningful conversations always seem to take place around a fire. Visit the famous fire pit located outside of Cucina Restaurant at The Lodge at Vail and enjoy the music and s'mores galore.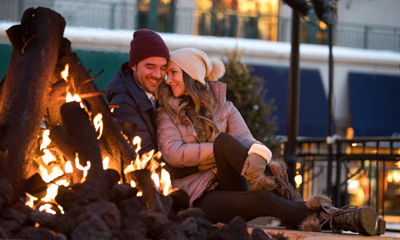 Beaver Creek, Colorado
BEAVER CREEK VILLAGE
Reconnect with friends and family around multiple glowing fire pits in Beaver Creek Village. Plush couches line the family ice rink, as do upscale galleries, boutiques, and award-winning restaurants.
Breckenridge, Colorado
One of Breckenridge's hottest evening activities happens at Crystal Peak Lodge.
Have a drink, enjoy the warmth of the heated patio, and indulge in some of the best views in the village overlooking the famed Peak 7.
EPIC Fire Beyond Colorado
Things are toasty in California and Canada, too! Around the fire pits snuggle up with loved ones, engage in warm conversation,
and even enjoy some complimentary s'mores.
Heavenly, California
FIRE + ICE RESTAURANT
Enjoy Fire + Ice's signature cocktails around three mountain view fire pits in the heart of the Heavenly Village. Reflect on your epic turns at the outdoor bar as the gondola passes by overhead.
Save a fireside seat for your friends or head inside for unique all-you-can-eat cuisine.
Read More AT FIRE-ICE.COM

, opens in a new window
Northstar, California
Every day the village offers complimentary s'mores for the whole family. Northstar even delivers these delicious treats in a s'moresmobile to spread joy all afternoon.
Cozy up next to the fire pits by the ice rink and chow down. You might even get to indulge in Northstar's signature bacon-wrapped s'mores!
Whistler Blackcomb, Canada
THE DUBH LINN GATE IRISH PUB
Located right at the base of the Excalibur Gondola, the Dubh Linn Gate's patio is the perfect place to watch the snow fall when you need a break from the slopes.
Grab a beer or a coffee, then warm your hands over the fire until you're ready to return to the mountain.