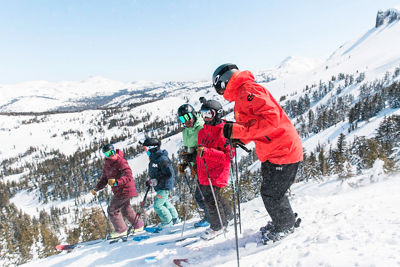 Explore the Best Mountain Resorts in the West
The West Coast of the United States has some of the most beautiful landscapes in the entire world. From ancient old-growth forests to jagged peaks and cascading rivers, the states of California and Washington exemplify the American West.
During both summer and winter, Lake Tahoe and the Cascade Range attract outdoor enthusiasts from the world over. From mountain biking to rock climbing and powder skiing, the Western United States is synonymous with adventure.
In California, Heavenly has attracted families, as well as pro skiers and riders, to the Lake Tahoe region for decades. Further south of Lake Tahoe, Kirkwood offers a remote Sierra Nevada ski experience with fewer crowds than most ski areas.
Ski and Ride the Day Away
A ski and ride vacation to the West is an unforgettable experience. Whether it be deep powder snow, steep chute runs, or endless views of Lake Tahoe, this region does not disappoint. Even better, each resort in the West caters to families and children, so everyone is guaranteed a good time.
California's Lake Tahoe Ski Areas
Lake Tahoe is renowned for incredible skiing and riding, unforgettable scenery, and perfect weather. North Lake Tahoe offers quick access from I-80 in either direction, so you can easily get to Northstar from Reno, Sacramento, or San Francisco. South Lake Tahoe is home to Heavenly and Kirkwood, as well as incredible casinos, nightlife, and ski apres options.
Heavenly
Heavenly is the most iconic ski area in the Lake Tahoe region. With over 4,800 skiable acres, Heavenly offers incredible terrain for skiers and riders of all abilities. Even more, Heavenly is the only ski resort that operates across state lines in both Nevada and California.
Heavenly boasts a world-class terrain park that is great for both skiers and riders. Beyond the park, Heavenly has some of the best big mountains and extreme skiing anywhere in the Sierra Nevada Mountains. With over 350 inches in annual snowfall and intense backcountry terrain, expert skiers and riders find all the challenges they need at Heavenly.
Northstar
Northstar is widely renowned as Lake Tahoe's premier resort. With convenient slope-side lodging, boutique shops, and incredible terrain parks, Northstar will keep you entertained both day and night. Between long groomed runs and off-piste bumps, Northstar is the full package for California skiing and riding.
Because Northstar has one of the best ski and ride schools in the world, a trip to this resort will really sharpen your family's skills. Northstar also boasts 6 incredible terrain parks - offering countless features for skiers and riders. If your kids ski and ride the park at Northstar, it's likely they can watch professionals train at these world-class facilities.
Best of all, one of Northstar's most unique features is our Mountain Guides. Our Mountain Guides curate experiences for skiers and riders of all levels - whether it's your first time on the slopes, or you're an expert looking for your next challenge.
Kirkwood
Kirkwood is one of the most unique skiing and riding experiences in the Lake Tahoe region. Located high in the Sierra Nevada Mountains, Kirkwood is located near the incredible expanses of the Desolation Wilderness. Because it is located off the beaten path, Kirkwood is home to a unique ski and ride culture all its own.
With a 2,000 ft. vertical drop, as well as 5 different peaks to ski and ride from, Kirkwood has something for beginners and experts alike. Kirkwood provides near-endless groomed runs for beginners and families, as well as off-piste options for more advanced skiers and riders. In fact, Kirwood is renowned among skiers and riders for cliffs, chutes, and big mountain lines.