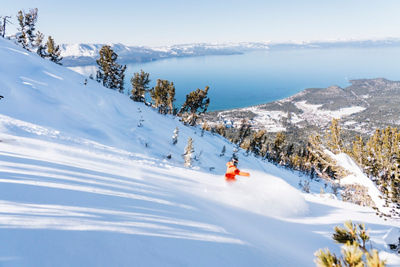 Best Ski Resorts in Lake Tahoe
The Sierra Nevada Range in California is home to world-famous Lake Tahoe.
Coming in at over 1,500 feet deep, Lake Tahoe is one of the most iconic and picturesque bodies of water in the entire world. During the summertime, people flock to the lake for boating, wakeboarding, sailing, diving, and paddleboarding.
While options for outdoor activities are near endless in Lake Tahoe, there are also many other options for entertainment. Located on the border of California and Nevada, South Lake Tahoe has incredible nightlife with casinos, shows, concerts, and more.
Heavenly
Heavenly Resort Highlights
Heavenly is the most iconic ski area in the Lake Tahoe area. Running along the southern shores of the lake, Heavenly is the only ski area to operate across state lines in both California and Nevada.
Skiers and riders at Heavenly enjoy over 4,800 skiable acres of terrain, making it the largest ski resort in Lake Tahoe. With nearly 100 trails, the mountain has diverse options for beginner, intermediate, and advanced skiers and riders.
One of Heavenly's most defining trails is a mogul run known as Gunbarrel. Each year, freestyle skiers test their might and endurance on 1,600 feet of pure moguls. For reasons such as this, some of the best skiers and riders in the world come to Heavenly to train.
Off-Mountain Highlights
The only thing that Heavenly does as well as skiing and riding is off-mountain activities. If you are traveling with people who don't ski or ride, they can take the scenic gondola ride to the top of Heavenly for expansive views of Lake Tahoe.
Apres-ski in South Lake Tahoe is a big deal. Not only does Heavenly have world-class restaurants and bars to kick back and relax, but the nightlife in the area is second to none. Once you have treated yourself to a gourmet meal, you can hit the town of Stateline, NV, and try your luck at the casinos.
Northstar
Mountain Resort Highlights
Northstar is the premier ski and ride resort in North Lake Tahoe. Northstar is conveniently located within driving distance of several cities with major airports - including San Francisco, Sacramento, and Reno.
Northstar combines 3,170 skiable acres with 350 inches of annual snowfall. The resort complements its expansive terrain with one of the most highly regarded ski and ride schools in the industry. Booking lessons for your kids at Northstar is a surefire way to progress their skills.
The most standout characteristic of Northstar is world-class terrain parks. Incredibly, the resort offers 6 unique terrain parks for skiers and riders of every level. With such expansive offerings, it is no surprise that Northstar's terrain parks receive awards every winter.
Off-Mountain Highlights
Off-mountain experiences at Northstar offer the perfect balance between family fun and comfort. Recognized as the premier family destination in Lake Tahoe, Northstar is sure to make the trip of a lifetime for your kids.
Northstar also offers exclusive services like the Platinum Club. By becoming a member of the Platinum Club, you get a dedicated ski locker at the base of Northstar, plus a ton of perks that make for the most effortless ski and experience anywhere.
The Village at Northstar also offers extraordinary shopping opportunities whether you're looking to explore a unique boutique, stylish apparel, or just want to sip a warm winter cocktail.
Kirkwood
Mountain Resort Highlights
Located deep in the Sierra Nevada Mountains of California, Kirkwood is a totally unique ski and ride experience. Because it is situated beyond the populated regions of South Lake Tahoe, Kirkwood provides a pristine mountain experience.
One of the most unique features at Kirkwood is its 5 different mountain peaks at over 9000 feet elevation. Nestled within these iconic peaks, Kirwood has 2,000 acres of skiable terrain and a 2,000 ft. vertical drop.
When Kirkwood gets filled in with powder snow, extreme skiers and riders flock to the area for its legendary chutes and massive bowls. Even more, due to its remote location, Kirkwood rarely sees any crowds or long lift lines.
Off Mountain Highlights
Kirkwood has several restaurants to choose from, including both fine dining and casual options. The resort also has several slopeside lodging choices, in condos, hotels, and townhomes.
Best Ski Resorts in the Pacific Northwest
If the Pacific Northwest is known for anything with skiers and riders, its steep runs and an abundance of powder snow. Located just east of Seattle, WA, the Cascade Mountain Range has some of the highest annual snowfall totals in the entire world.
Stevens Pass
Mountain Resort Highlights
Set between the Mt. Baker and Wenatchee national forests, Stevens Pass is the top ski and ride destination in the Pacific Northwest. Located deep in the Cascade Range, Stevens Pass is the place to sharpen your ski and ride skills.
Incredibly, Stevens Pass gets an average of 450 inches of snow each year. Due to the number of storms at Stevens Pass, the resort has a 100 in base for much of the ski season. This deep base makes for some of the most consistent skiing and riding in all of the West.
Stevens Pass has an abundance of terrain options for all types of skiers and riders, with over 50% of the mountain dedicated to intermediate runs. You can also access night skiing at Stevens Pass from several different chair lifts.
Off Mountain Highlights
There are several great restaurants available at Stevens Pass, as well a great on-mountain retail shop, Fall Line Sports.
Stevens Pass is also leading the ski industry with sustainability measures. As of the 2018-2019 season, 70% of the resort's waste is either composted or recycled. With these incredible stats, Stevens Pass is on track to meet its goal of 0% waste by the year 2030.
Book Your Ski and Ride Vacation in the West
The best way to maximize your ski and ride vacation is with an Epic Pass. Only available for purchase until the early season, Epic Pass offers unparalleled access to premier destinations in the West. Epic Pass is extremely convenient in places like Lake Tahoe, where you can visit several ski areas with a single pass.
Through Epic Mountain Rewards, Epic Pass holders also enjoy 20% savings on lodging, food, rentals, and more. Also, booking your ski and ride vacation through your resort of choice will give you the best possible value.