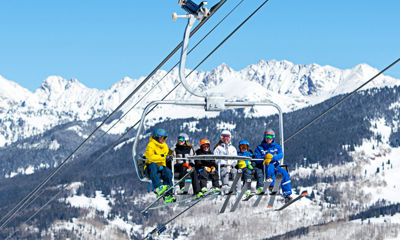 When it comes to chairlifts and gondola rides, the age-old adage, "Life's about the journey, not the destination", has never rang more true. There's something special about the serene quality of riding the chairlift for your first run of the day on a crisp winter morning.
For some, being above the slopes and the noise is a therapeutic experience. For others, it's a social one. The chairlift connects us with the summits and the runs.
But, more importantly, it connects us with each other – with family and with friends old and new.
Being carried away high in the sky and up the slopes together gives us the unique chance to share a story, a laugh, and much more.
"If you're skiing with family, the chair rides are actually, you know, quality time," says Elmar Weber, a long-time guest who brings his wife and two kids to
Heavenly
every season. "You're sitting there admiring the beautiful view of the lake here and you actually get a chance to talk.