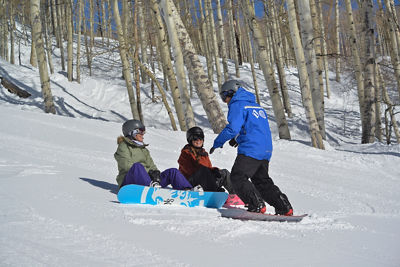 Which Rocky Mountain Ski Resort is Best for My Family?
The Rocky Mountains offer endless skiing and riding in some of the finest terrains in the world. Pass holders can enjoy world-class amenities in resorts like Beaver Creek, or soak up the mountain town vibes in Crested Butte and Breckenridge.
Vail
Boasting over 5,000 acres of terrain for skiing and riding, Vail is the premier ski resort in Colorado. Vail compliments this incredible terrain with 3 unique villages at its base area. Whether it be ice skating or shopping for delicious sweets, Vail Village has something for kids of all ages.
Epic Pass holders enjoy skiing and riding the legendary back bowls, which have earned Vail the title "like nothing on earth." Your kids will also have a blast with all the family activities at Adventure Ridge.
Beaver Creek
Beaver Creek is celebrated as an intimate ski and ride experience that does not short on exceptional service. Less busy than most other resorts, Beaver Creek has a European-style base area that speaks to luxury, as well as attention to detail. While adults revel in Beaver Creek's "not exactly roughing it" approach, it also makes a great experience for the kids.
One of the most unique features at Beaver Creek is the Beaver Creek Nordic Center, available to Epic Pass holders at no additional cost. With 32km of snowshoeing, cross-country, and telemark terrain, you can get the whole family out on the trail. Beaver Creek also just opened a new beginner ski and ride area named McCoy Park for the 2021-2022 season.
Breckenridge
The name Breckenridge has grown synonymous with incredible Rocky Mountain skiing and riding. Just 90 minutes from Denver, Breck is an easily accessible ski resort with a rich mining history and quaint mountain vibe. Even better, the lifts and gondolas at Breck run right into town, offering unparalleled access for independent, older children.
With historic buildings lining the streets, Breck provides a casual ski experience that doesn't fall short on comfort. The ski area at Breck is spread out, so your kids can spend their days exploring this incredible high alpine terrain. Who knows, more adventurous kids might even ride the highest lift in North America - the Imperial Express SuperChair that unloads at heart-pumping 12,840 ft.
Keystone
Keystone is the ideal resort for families with young children. Importantly, Keystone provides the perfect balance of affordability and resort access - all powered by a highly kid-centric mentality.
With exceptional slope-side accommodations at River Run Village, the whole family can enjoy the slopes at their own pace. When done with ski and ride lessons, your younger kids can easily head back to the room for a nap. When the family isn't skiing and riding at Keystone, be sure to check out the ice skating rink, explore the snow tubing hill, or experience a scenic sleigh ride.
Crested Butte
Crested Butte is one of the most unique skiing and riding experiences in Colorado. This resort is located deep in the heart of the Colorado Rockies and features some of the most extreme skiing anywhere. Due to its remote location, Crested Butte is a quieter ski area than you would see in places like Summit County.
While Crested Butte has long been celebrated for its steep runs, it is also extremely family-friendly. In recent years, the resort has poured serious resources into developing its ski and ride school, as well as expansive beginner areas. Boasting a good number of green and blue runs, Crested Butte offers the perfect place for your kids to advance their ski and ride skills.
Park City
Park City is a resort renowned for its infinite open space and open-hearted mentality. Coming in at an incredible 7,300 acres, Park City is the largest ski area in the United States. Whether it be gentle beginner slopes or harrowing advanced runs, Park City has something for every level of ski and ride enthusiast.
Park City offers near-endless family activities. The resort is directly connected to iconic Main Street, where you can get world-class food and visit historic sites. On resort, High Meadow Park offers the perfect place for ski and ride lessons. First opened in 2018, this learning area boasts exciting Adventure Alley trails for the kids and a detachable 4-person chair lift for easy loading and unloading.