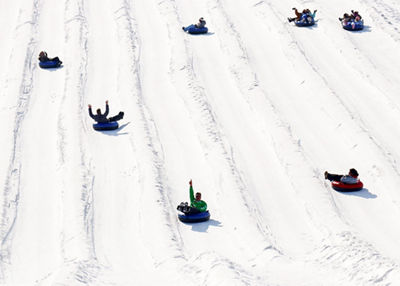 Family Ski and Ride Trips in the Midwest
No matter where you live in the Midwest, there is great skiing and riding within a reasonable drive. Once at a resort such as Alpine Valley or Mad River Mountain, you will enjoy great amenities like slopeside dining and hotel lodging.
Your kids will love the snow tubing, beginner lessons, and racing teams at ski and ride resorts in the Midwest. With 100% snowmaking coverage and 100% night skiing at each mountain, your kids can freely explore these amazing places. They can even step up to the terrain parks if they are ready!
Which Midwest Ski Resort is Best for My Family?
While all Midwest resorts get the perks of the Epic Pass, they are each unique in their own way. For example, Afton Alps in Minnesota has an incredible 300 acres of skiable terrain, making it as large as many resorts in New England. In addition, Boston Mills and Brandywine offer skiing and riding at two resorts with a single lift ticket.
If snow tubing is a priority for your family, be sure to research this activity at each Midwest resort.
Wilmot
Wilmot is a favorite resort for skiers and riders in Wisconsin and Illinois. With four terrain parks and great lodging options, Wilmot makes for the perfect weekend getaway for people from both Chicago and Milwaukee.
Cutting-edge snowmaking capabilities ensure the slopes at Wilmot are always in the best shape possible.
Afton Alps
Afton Alps is widely regarded as the top winter resort in Minnesota. Located just a short 25-minute drive from the Twin Cities and the Minneapolis-St. Paul International Airport, it is popular with locals and tourists alike.
Afton Alps also boasts several leading terrain parks and a plethora of slopeside dining options.
Mt. Brighton
For over 60 years, Mt. Brighton has been a favorite mountain with Michigan-based skiers and riders. At Mt. Brighton, kids enjoy one of the best ski and ride schools in the country, including both group and private lessons.
When skiing and riding at Mt. Brighton, the whole family can use the EpicMix App to track their activity and compare stats.
Alpine Valley
Alpine Valley is one of the best places to learn to ski and ride in Ohio. Not only is the resort 100% family-focused, but it also has sophisticated snowmaking capabilities and night skiing on the entire mountain.
When visiting Alpine Valley, your family will enjoy great equipment rental options suited for skiers and riders of all capabilities.
Boston Mills & Brandywine
You can ski and ride the sister resorts of Boston Mills and Brandywine on a single lift ticket. Located just 5-minutes from each other, it is simple to move the whole family between the two Ohio resorts. Boston Mills and Brandywine offer great beginner, intermediate, and advanced terrain choices for any family.
With Polar Blast Tubing, Boston Mills and Brandywine have one of the best snow tubing areas in the Midwest. The tubing area is serviced by a two-lane conveyor belt to get the kids up the mountain.
Mad River Mountain
Mad River Mountain is the largest skiing and riding resort in Ohio. It is widely recognized for its excellent ski school, including group and private lessons for kids.
When at Mad River Mountain, use the EpicMix App to track your day's activities. Keep tabs the whole season long so you know exactly how many vertical feet you have skied every year!
With lanes 1,000 ft. in length, Bubbly Tubing Park is fun for the whole family. When not tubing down the mountain, your family can warm up with hot chocolate and snacks.
Hidden Valley
Hidden Valley is the largest skiing and riding resort in Missouri. With 100% snowmaking capabilities, Hidden Valley will always have professionally-groomed runs for the whole family. Even more, night skiing and riding give you great flexibility in your travel schedule.
With two terrain parks, Hidden Valley has some of the best park skiing and riding anywhere in the Midwest.
Polar Plunge Tubing Park in Hidden Valley is a truly unforgettable experience. This massive tubing area has two walk-on conveyor belts, as well as a fully stocked snack bar with food and beverages.
Snow Creek
Snow Creek is a Missouri-based winter resort with a ton of kid-friendly activities. If your children are just learning to ski and ride, be sure to check out the First Timer's Guide on the Snow Creek website.
Beyond amazing snowmaking and night skiing, Snow Creek has two terrain parks, RattleSnake and Gunslinger Progression Park
Tornado Alley Tube Park at Snow Creek is serviced by a 460 ft. conveyor carpet lift. Your family can enjoy 2-hour sessions at the tubing park - while also warming themselves beside the bonfire pit between runs.
Paoli Peaks
Conveniently located in Southern Indiana, people flock to Paoli Peaks from around the Midwest, as well as the Southern United States. Besides great slopes and terrain parks, Paoli Peaks has leading off-mountain amenities. Visitors enjoy a 45,000 sq. ft. day lodge with rental shops, restaurants, sports stores, and ski/ride schools.
Arctic Blast Tubing Park features ten lanes that are each 700 ft. in length. This tubing area at Paoli Peaks also has comfortable seating areas both indoor and outside.