THIRTEEN KID ACTIVITIES FOR QUALITY FAMILY TIME
When you vacation at one of our world-famous resorts in beautiful Colorado, luxury chalets, high-end shopping, and fine dining will be only steps away. In addition to the lavish mountain lifestyle, there's also a plethora of family-friendly activities at every corner—you just have to know where to look!
You can bond, celebrate, and connect more with the family during this winter's ski vacation by keeping the tiny tykes entertained with a variety of activities. Create special memories in a one-of-a-kind mountain ambiance that creates endless smiles!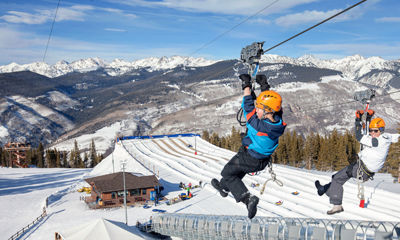 Vail, Colorado
ADVENTURE TIME AT ADVENTURE RIDGE
Spend the afternoon and evening at Adventure Ridge, a football stadium-sized snow park situated on top of Vail. Here, your family can enjoy ski bikes (yes, a bike made for snow!), a kids' snowmobile track, a slippery slope of tubing lanes, and more.
Then pop over to Bistro Fourteen and refuel—the view is unbelievable!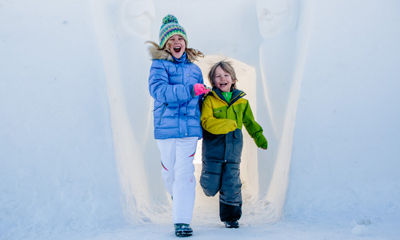 Keystone, Colorado
KID-APPROVED KIDTOPIA
Head over to Kidtopia, a kid-friendly, kid-approved festival of activities. Discover the world's largest snow fort, slides, mazes, turrets, live music dance parties, arts and crafts, tubing, and ice-skating!
With activities this plentiful, bet your kids will be tuckered out by day's end.
Beaver Creek, Colorado
WESTERN-THEMED STORY TIME
Beaver Creek is world-renowned for its high-end service and excellence in customer service. A family visit to Beaver Creek features many child-friendly activities like the Buckaroo Bonanza Bunch, a children's theater story time at The Ranch.
This complimentary, fun, and Wild West-themed theater group puts on a quick-paced show ideal for ages 3-6.
BLUECREEK.COM

, opens in a new window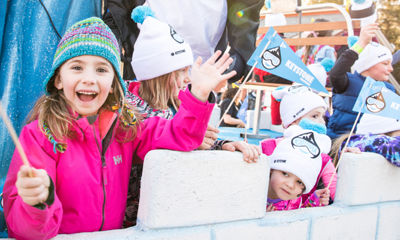 Keystone, Colorado
PARADING WITH RIPPEROO
Join Ripperoo, Keystone's beloved canine character, and a host of performers in Ripperoo's Village Parade. The conga line starts at 4 p.m. on Saturdays during the season at the River Run Ski School.
Then it heads for a sweet conclusion at Dercum Square Ice Rink for complimentary hot cocoa and cookies.
Keystone, Colorado
At Lakeside Village, an outdoor skating rink, kids can join a pickup hockey game or take a free figure-skating clinic on Keystone's five-acre lake.
This landmark also boasts to be the largest Zamboni-maintained outdoor skating rink in North America.
Beaver Creek, Colorado
Some outdoor activities can be done almost anywhere; unfortunately, dog-sledding is not one of them. Mountain Musher offers pick-ups in Vail and Beaver Creek with both morning and afternoon options.
Vail, Colorado
Eat and Play at Bol
Don't be intimidated by the sleek, modern interior; kids are celebrated and welcome here. With 10 bowling lanes, a full-service dining room, and a stocked bar, this restaurant/bowling alley/bistro is both diverse and eclectic.
BOLVAIL.COM

, opens in a new window
Beaver Creek, Colorado
Family Pizza Night at Blue Moose
Blue Moose is a go-to for families, thanks to consistent quality and friendly staff. Blue Moose's menu appeals to everyone, from the pickiest to the most adventurous eaters.
Kids can opt for a classic cheese pizza, chicken fingers, noodles, or mac 'n' cheese, while Mom and Dad enjoy gourmet options like the "Vonnderful," pizza with chicken, artichoke hearts, pesto, roasted garlic, and goat cheese.
BlueMoosePizza.com

, opens in a new window
Breckenridge, Colorado
Play Around Downstairs at Eric's Arcade
Downstairs at Eric's is a local-approved après spot in town. Not only do they have 30 beers on tap and wings galore, an entire room of arcade games await your kiddo's second-wind.
Kids can jam out on Guitar Hero or bring back the classic era with Galaga while you sip on a well deserved end-of-the-day pint.
DOWNSTAIRSATERICS.COM

, opens in a new window
EPIC Activities Beyond Colorado
The family-friendly fun continues at our Utah, California, and Canada resorts. If you find yourself traveling all the way west, be sure to check out the horse-drawn sleigh ride tour through the Sierra Nevadas. If you're heading to the majestic Rocky Mountains in Utah, schedule a ride on the Alpine Coaster for unbeatable views at high-speed!

Park City, Utah
Delight in excited squeals from your kids on this thrill ride. The coaster is open year-round, boasts over a mile of loops and hairpin curves, and reaches speeds up to 30 mph.
Northstar, California
Sleigh Ride Tours at Sierra Adventures
Family-friendly, fun sleigh rides abound at Sierra Adventures at Northstar. This horse-drawn sleigh ride tour through the Sierra Nevada lets you take in the scenery with your loved ones, carefully tucked under a warm blanket.
Park City, Utah
A Piece of Olympic History
The Utah Olympic Park (UOP)—which hosted the bobsleigh, skeleton, luge, Nordic ski jumping, and Nordic combined events—still holds prominent winter competitions, including World Cup events.
Additionally, the Olympic Park is home to two museums, the Alf Engen Ski Museum and the 2002 Olympic Winter Games Museum. The UOP also offers guided bobsleigh runs down the actual Olympic track.
UTAHOLYMPICLEGACY.ORG

, opens in a new window
Whistler Blackcomb, Colorado
Park City isn't the only mountain with an Olympic History. Show little ones where world-class athletes stood on the podium in 2010 at the Whistler Olympic Plaza. The weekly Family Après Event also provides free activities and entertainment.