BUILD KIDS' SKILLS ON THESE 14 FUN RUNS
The best ski resorts are built with kids in mind. From dragon-themed runs at Breckenridge to a whole area of the mountain designed for kids at Keystone, beginner-friendly runs are begging to be discovered.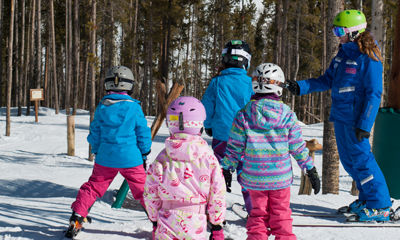 Vail, Colorado
1. PORCUPINE ALLEY
Named for the prickle of porcupines that lives on the mountain, this green run has a unique ski-through A-frame up top that gives way to wide-open slopes among the trees.
Keep an eye out for the porcupine sculptures for reference points and the "SKE-Cology" signs to learn more about local wildlife.
Breckenridge, Colorado
This themed green run at the bottom of Peak 8 is must-ski for kids of all ages.
Beginners can cruise over the moat at Ski-a-Lot Castle—watch out for the dragons!—then duck into the Dragon's Lair to warm up with a cup of cocoa before exploring more easy-going terrain nearby.
Beaver Creek, Colorado
There are so many great beginner trails all over Beaver Creek, including at the top of the mountain where the snow is best.
Take the Strawberry Park Express lift and follow the green runs all the way down to Little Brave, which carries you directly into Arrowhead Village. And while you're on the slopes, stop by the Candy Cabin, an on-mountain cabin dedicated to sweets!
Keystone, Colorado
Catch up with Keystone's mascot Ripperroo, the dog who loves to ski, at School Yard, a ski trail designed for families.
Located on Keystone's famed Schoolmarm, this green run features kid-friendly bumps and varied terrain.
Keystone, Colorado
Whether your kids prefer "pizza" or "french fries" stance on their skis or are still rocking the "falling leaf" technique on their snowboard, Silver Spoon is an ideal place to learn the basics and get more comfortable with equipment.
It's wide open and relatively flat but still challenges beginners to pick up speed and make sharper turns. Silver Spoon is also open for night skiing.
Breckenridge, Colorado
With five peaks spanning 2,901 acres, Breckenridge has something for everyone. But for skiers and riders learning the ropes, stick to the Quicksilver Superchair on Peak 9.
Here, little ones can spend the morning exploring countless green runs while admiring the view of expert runs and exposed peaks directly above.
Keystone, Colorado
Dercum Mountain summit, which towers above a cornucopia of intermediate and beginner runs, is a wonderful place for kiddos looking to practice, practice, practice. A ride on the River Run Gondola delivers you to Dercum Mountain's Summit House (11,640 feet).
From there, get your bearings on Schoolmarm, skier's left of Summit House, which winds to the River Run base through an official "slow skiing zone."
Ready for more challenges? Try Spring Dipper, far skier's right, a run that skirts the resort boundary and offers a few steeper pitches interspersed with flatter stretches.
EPIC Kid Runs Beyond Colorado
Great kids' runs aren't limited to Colorado alone; for even more variety, head over to sunny California or breathtaking Canada next. With slow skiing zones perfect for beginners and children to hone their skills, these are great places to learn, practice, and perfect.