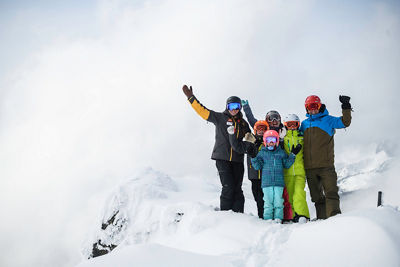 Why Ski and Ride the Coast Mountain Range?
When compared to their sister range in the United States, the Pacific Northwest is quite unique. While both areas offer world-class skiing and riding, the Coast Mountain Range is different from the American Rockies in a few ways.
Annual Snowfall
Because they are located closer to the coast of the Pacific Ocean, the Pacific Northwest gets more snow than the American Rocky Mountains. Just as seen at Stevens Pass in the Cascade Range, heavy precipitation in the coastal region of the Pacific Northwest leads to a deep snowpack in the mountains.
Whistler Blackcomb averages 450 inches of snowfall per season, while many ski resorts in the American Rockies average about 350 inches.
Elevation & Vertical Drop
One of the most defining characteristics of Whistler Blackcomb is its massive vertical drop. While many of the largest ski areas in the world have a vertical drop of around 3,000 ft., Whistler Blackcomb has an incredible 5,000 ft. vertical drop.
Backcountry Terrain & Heli-Skiing
Whistler Blackcomb is one of the best North American resorts for adventurers seeking backcountry access, as well as heli-skiing. With the backcountry program, skiers and riders can purchase specific lift tickets to access the expansive backcountry terrain outside the resort. Even more, Epic pass holders get 20% off heli-skiing if they book early in the season.
World-class Ski Vacation at Canada's Whistler Blackcomb
While Whistler Blackcomb has incredible options for skiing and riding, the fun does not stop on the mountain. In fact, the resort offers innovative activities such as scenic rides on the PEAK 2 PEAK Gondola and the option to Ski and Ride with an Olympian.
Biggest Ski Resort in North America
Whistler Blackcomb is the biggest ski resort in North America. Incredibly, the resort is comprised of two mountains built into a single, world-class ski and ride experience. Whistler Mountain and Blackcomb Mountain make up the ski resort - they are joined by both ski runs and the PEAK 2 PEAK Gondola.
Whistler Blackcomb has 8,172 acres of skiable terrain. Within this expansive resort, skiers and riders enjoy over 200 trails that are easily accessed by 32 ski lifts. This infrastructure is capable of moving 70,000 skiers per hour to the top of the mountain.
Best Ski Area for Skiers and Riders of All Skill Levels
Due to its sheer size and dedication to innovation, Whistler Blackcomb has something to offer every level of skier and rider. Noteworthy attractions for skiers and riders at the resort include:
Terrain parks
Kids club/ski and ride lessons
Tree skiing
Bowl skiing and riding
Beginner areas
Backcountry access
Heli-skiing
EpicMix App to track progress
Ski and Trip Bucket List
Whistler Blackcomb has gone to great lengths to make for a memorable ski and ride vacation in the Pacific Northwest. In fact, they offer several bucket list activities unique to the Whistler Blackcomb area. These include:
Dog sledding
Bobsledding
Skeleton sledding
Glacier skiing and riding
Ski and ride with an Olympian
Heli-skiing
Apres-ski
PEAK 2 PEAK Gondola rides