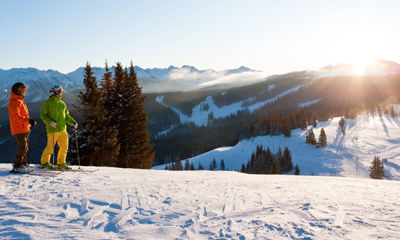 Warmer Temps = Different Gear
Because temps change more rapidly in the spring (we love the afternoon sun!), you need more layers to stay warm and cool down quickly. Pack lots of mid-weight layers so you can regulate your temperature throughout the day and still stay comfortable.
And because the conditions can be different from what you're used to in the winter, take the opportunity to rent some gear.
Our rental experts will help you pick the right skis or board for the day's conditions. Plus, you get to test out the newest and most advanced stuff with a demo!
Snow, Snow, Snow.
With a full winter behind us and a deep base in place, you'll enjoy prime snow conditions at our resorts well into April.
Looking for a day of cruising with the whole group? Head out late morning or early afternoon and get softer snow due to those sunny mornings you yearn for. And if you're feeling the need for powder, get out first thing in the morning.
Powder days are aplenty in spring, so grab first chair and take in the fluffy stuff.