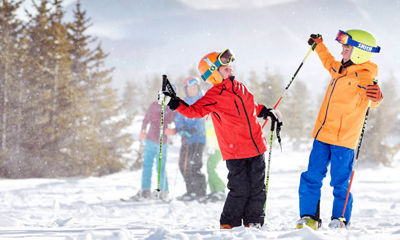 Letting your inner child out to play in the snow is a timeless tradition. And it's easy to do at
Vail's Adventure Ridge
.
This is a place where you'll likely hear shrieks of excitement coming from any one of the Ridge's many thrilling adventures, from ski bikes to lightning-fast inner-tube racing lanes.
A good portion of the mountain is dedicated to kid-focused activities that are fun for adults, too!
Stepping outside of your comfort zone in the mountains is a great way to bring your family and friends closer together.
And stepping onto the year-round bungee trampoline at Keystone Colorado is an easy way to do just that. By sharing a gravity-defying fly into the sky, you're sure to make memories you'll never forget.
Winter weekends in the mountains wouldn't be complete without an adult-oriented taste of local town culture. And at the
Breckenridge Distillery
, you can get not only a taste, but entire lessons about the history and heritage of the region.
If you're in the market for a snowy getaway where you can really unplug, forge new friendships, and get to know your group a little better, take in a mountain adventure at a world-class resort.
This is the opportunity to breathe in all that the majestic mountains have to offer. This is where you can connect, love, and live just a bit more vibrantly.