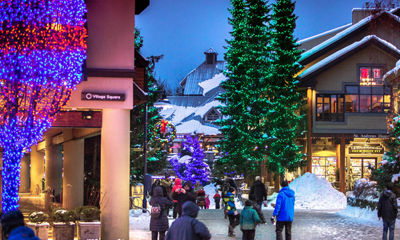 Whistler Village
is the power center of the resort. High speed lifts transport skiers and riders from a buzzing pedestrian-only village on a journey that takes you over a vertical mile into the Coast Range mountains.
For many vacationers, Whistler Village is more than enough; you can tour art galleries, go shopping and base yourself from your slopeside hotel for a variety of non-ski related winter activities (snowmobiling, sightseeing, snowshoeing, and zip-lining, to name a few).
Foodies revel in the many culinary styles from award-winning chefs - even the chocolate shops are divine. Once après-ski starts (just after lunch, depending on what time you want to quit), Whistler puts on its party clothes and rocks furiously into the wee hours.
BEST FOR:
Food: From A (
Araxi
,
Alta Bistro
) to Z (
Zog Dogs
), Whistler Village restaurants satisfy virtually every palate. Spanish tapas, French crepes, fine Italian pasta, Grade A Canadian steaks and some of the finest sushi on this side of the Pacific make Whistler a foodie favorite.
Slopeside: That booming sound inside your head isn't your hangover, it's the sound of avalanche guns making the slopes safe for another day of skiing and riding. Most Village accommodation is a short walk to either Whistler or Blackcomb high speed lifts. If sleep is important, choose Village North.
Shopping
: With over 200 shops and services, Whistler Village is more accurately described as a cosmopolitan resort.
Browse for bestsellers and regional favorites in one of BC's finest bookstores, or take home a box of Cuban cigars.
Nature: Whistler Village pulses with an intensity that makes it the center of the action, but you can still get away from it all with a short walk north (Lost Lake) or south (Valley Trail) from the Village.
Family: With dozens of funky shops and a complete calendar of kids' activities including
Family Après
at Whistler Olympic Plaza, Whistler Village is a favorite basecamp with the Snapchat set. (Selfie opportunities abound!). If early bedtimes are a requisite, choose Village North for accommodation.